The ExtremeWeather Dataset
Download
The files are large (62 GB each). Obtain them from Academic Torrents.
You will need a torrent client for the transfer.
About the Data
The data is available as one HDF5 file per year, which are formatted like so: "climo_yyyy.h5", like "climo_1979.h5".
Each HDF5 file contains two datasets:
Here is a snippet of code to load the datasets with the python library, h5py:
import h5py
data_path = "./climo_1979.h5"
h5f = h5py.File(data_path)
images = h5f["images"] # (1460,16,768,1152) numpy array
boxes = h5f["boxes"] # (1460,15,5) numpy array
The two variables, "images" and "boxes" are described below:
images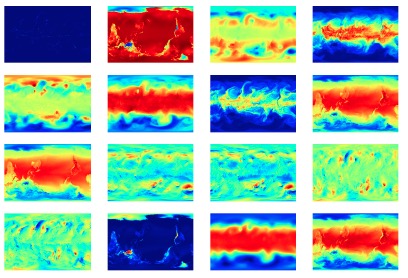 a (1460,16,768,1152) array
1460 example images (4 per day, 365 days in the year)
16 channels in each image corresponding to the following variables
each channel is 768 x 1152 corresponding to one measurement per 25 square km on earth
boxes
a (1460,15,5) array
1460 examples (4 per day, 365 days in the year)
15 rows (rows without boxes for that example are filled with -1's)

each row has 5 elements:
Additional Info
Variable Values:
The variables are the 2nd dimension of the "images" dataset in the HDF5 in the following order:
0. PRECT
Total (convective and large-scale) precipitation rate (liq + ice)
1. PS
2. PSL
3. QREFHT
Reference height humidity
4. T200
Temperature at 200 mbar pressure surface
5. T500
Temperature at 500 mbar pressure surface
6. TMQ
Total (vertically integrated) precipitatable water
7. TREFHT
Reference height temperature
8. TS
Surface temperature (radiative)
9. U850
Zonal wind at 850 mbar pressure surface
10. UBOT
Lowest model level zonal wind
11. V850
Meridional wind at 850 mbar pressure surface
12. VBOT
Lowest model level meridional wind
13. Z100
Geopotential Z at 100 mbar pressure surface
14. Z200
Geopotential Z at 200 mbar pressure surface
15. ZBOT
Lowest model level height
More information as to what each variable means is available here
Using the Data in Your Paper
To use this data in a paper please cite this paper:
ExtremeWeather: A large-scale climate dataset for semi-supervised detection, localization, and understanding of extreme weather events, Racah et al., 2017.